Gold and three bronzes from EGMO
Slovak team did well at the 12th European Girls' Mathematical Olympiad. Four representatives brought one gold medal and three bronze medals.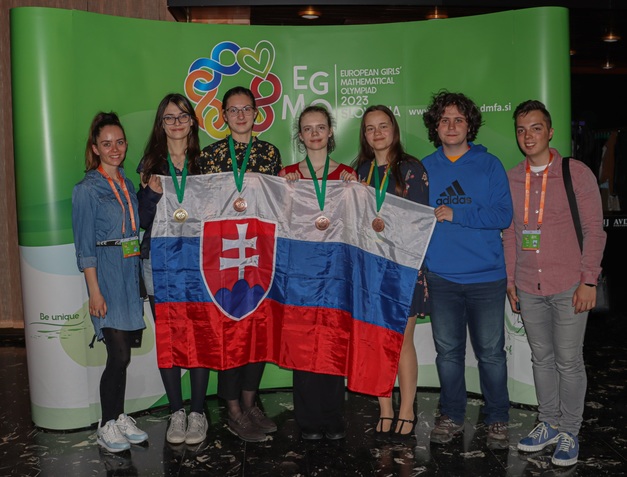 From left: L. Vištanová, E. Macáková, V. Chovancová, L. Chladná, A. Dományová, M. Poturnay, T. Kekeňák
From April 13 to 19, the 12th European Girls' Mathematical Olympiad took place in Slovenia. The Slovak Republic was represented by Alica Dományová, Lucia Chladná, both from Grösslingová Gymnasium in Bratislava, Veronika Chovancová from J. Branecký Piaristic Gymnasium in Trenčín and Eliška Macáková from CENADA Private Gymnasium in Bratislava. The leaders of our team were Marián Poturnay and Laura Vištanová. Tomáš Kekeňák was also a member of our national team as an observer.
Our representatives brought an above-average collection of medals this year. The gold medal was won by Eliška Macáková for 32 points and the bronze medals were won by Lucia Chladná for 25 points, Veronika Chovancová for 20 points and Alica Dományová for 17 points.
We finished in 18th place overall. Among European teams, we were 13th out of 38 European teams. Similar to last year, we finished one place ahead of the team from the Czech Republic, which placed 14th, while they scored 13 points less than our girls.
The results of our representatives are derived from their indisputable talent, but also persistent work and concentrated effort. However, they are also evidence that persistent and effective attention is paid to mathematical talents in Slovakia. Patrik Bak is one of the former extremely successful representatives of the Slovak Republic in Math Olympiad, currently a successful proposer of problems for the Math Olympiad at the national and international level. One of his problems was also used at this year's EGMO.